Welcome to Third Grade!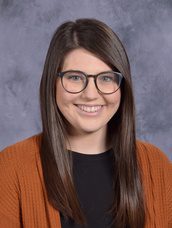 Hello, my name is Kelsea DeVries, the third-grade teacher.
I am a recent graduate from Ferris State University with a
bachelor's degree in Elementary Education. My husband and I have
been married for about two years, and we've recently bought a house
just outside the Greenville area. I enjoy spending my free time
reading, being outside, learning new things, and spending time with
family and friends. As a former St. Charles student, I am thrilled to
begin my teaching career within this wonderful community.
Kelsea DeVries
Third Grade Supply List
Backpack or Book Bag

Earbuds

3 pocket folders 

1 composition book 

2 highlighters

1 box of colored pencils 

1 box of crayons

1 box of washable markers 

3 glue sticks 

2 dry erase markers 

12 or 24 pack of pencils- please no mechanical pencils 

Tissue and paper towel . . . Not at this time! I will let you know when I need more. 🙂